Septu comment:  Austrian company PALFINGER Group is a major producer of hydraulic lifting, loading and handling systems. According to their own website, the company has been "the target of an ongoing global cyber-attack with massive effects on its IT infrastructure" (https://www.palfinger.com/en-gb) – almost certainly a ransomware attack.
Breach shuts down key global systems at one of the world's largest crane manufacturers.
If there is anything manufacturers can learn from the recent string of cyber attacks, it is that no one is safe from suffering a costly breach.
The most recent victim? Leading crane and lifting manufacturer Palfinger. The company has been targeted in an ongoing global cyberattack, disrupting IT systems and business operations.  As a manufacturer of cranes and lifting solutions, the Austrian manufacturer has a true global footprint with at least 35 locations. Its products have become a mainstay within construction industry as well as land and sea lifting, loading and handling.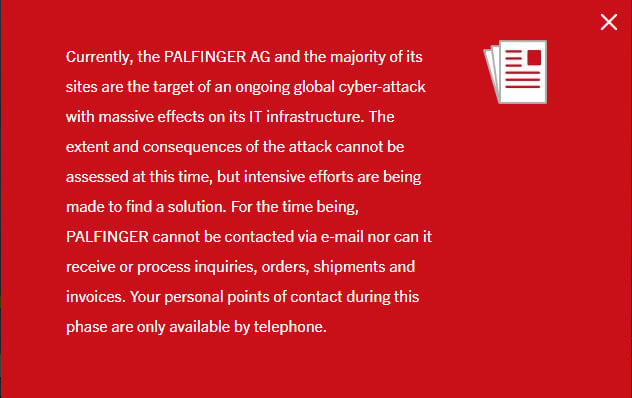 In the manufacturing business, time is money, so the disruption of Palfinger's IT services as well as order processing and shipment delays, translates to lost revenue, explains Andrea Carcano, co-founder of Nozomi Networks in email correspondence.
"The single biggest threat to enterprises today is underestimating and failing to address cybersecurity across all of a company's cyber and physical systems. Attackers are going after higher value targets and that includes operational networks.  The remediation costs and efforts to repair the operational, financial and reputational damage caused by these attacks put a significant strain on leadership teams," he says. "IT and OT systems are converging and security teams need to take a new, holistic approach to cybersecurity. Businesses should deploy artificial intelligence and machine learning tools across their IT/OT networks to gain real-time visibility and identify cyber threats and resolve issues before harm is done," says Carcano. "We know from working with thousands of industrial installations, that with the right technology and a focus on best practices, it's possible to monitor and mitigate these risks and achieve operational resiliency. A robust cyber defense strategy is the best line of defense against sophisticated attacks."
From:  industryweek